WhatsApp merupakan salah satu media sosial paling populer yang penggunanya telah mencapai ratusan juta orang. Fitur yang ditawarkan oleh WhatsApp seperti enkripsi End to End dan fitur auto download yang memungkinkan seluruh foto yang kalian lihat di WhatsApp akan diunduh secara otomatis oleh aplikasi ini membuat aplikasi yang satu ini semakin disenangi oleh para pengguna.
Namun, belakangan ini fitur auto download tersebut sempat menjadi perbincangan karena terus mengunduh seluruh foto yang kalian lihat di WhatsApp, meskipun foto tersebut tidak ingin kalian unduh atau simpan. Memang, kalian bisa saja tinggal mematikan fitur auto download tersebut. Namun bagaimana dengan foto-foto yang sudah telanjur terunduh? Inilah cara menghapus otomatis foto spam grup WhatsApp yang tentu sangat menganggu, simak dibawah ini ya!
Cara Hapus Otomatis Foto Spam Dari Grup WhatsApp
Nah, untuk mengatasi masalah terlalu banyak foto tidak penting hasil auto download WhatsApp ini, berikut ini Jaka akan jelaskan cara menghapus secara otomatis foto-foto yang telah ter-download secara otomatis tersebut sehingga tidak menjadi spam dan membebani memori smartphone kalian.
1. Langkah Pencegahan
Sebelum masuk ke aplikasi yang akan Jaka bahas, pertama-tama kalian bisa langkah melakukan pencegahan agar WhatsApp tidak seenakanya melakukan download foto apa pun ke perangkat smartphone kalian melalui

Settings

.

Dari Settings, pilih

Chat Settings

untuk mengakses pengaturan berikutnya.
Nah, selanjutnya kalian tinggal mematikan fitur auto download pada bagian

Media Auto Download

agar WhatsApp tidak lagi melakukan download foto seenaknya ke smartphone kalian.
Nah, setelah melakukan
langkah pencegahan
, saatnya kita lanjut ke aplikasi yang akan membantu kalian
menghapus otomatis foto spam dan junk
yang terunduh secara otomatis melalui WhatsApp.
2. Gallery Doctor
Cara pertama yang bisa kalian lakukan untuk menghapus foto yang berlebihan adalah menggunakan aplikasi
Gallery Doctor
.
Pertama-tama, kalian harus download dan instal aplikasi Gallery Doctor terlebih dahulu, kemudian jalankan di smartphone kalian.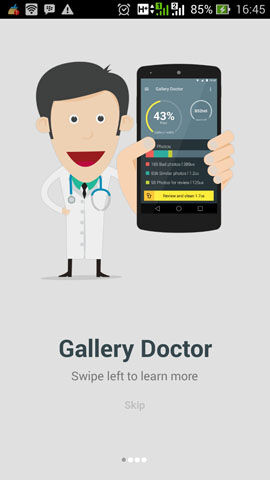 Dari halaman utama, pilih

Skip

untuk mengakhiri tutorial dan kalian akan langsung berpindah ke halaman analisis, di mana aplikasi ini akan langsung mulai

menganalisis foto

yang terdapat pada folder media WhatsApp kalian.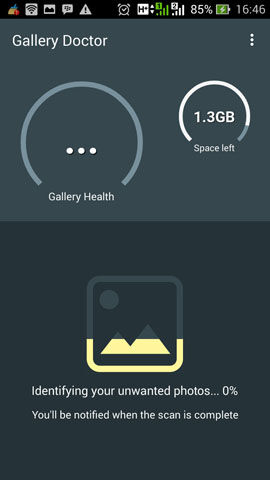 Tunggu sampai proses analisis selesai, aplikasi ini akan menampilkan hasil analisisnya. Pada bagian ini, kalian bisa memilih

Bad Photos dan Similar Photos

untuk dihapus, karena foto yang tergolong ke dalam kategori ini hanya akan membuang-buang ruang

penyimpanan internal

smartphone kalian, serta pilih juga

WhatsApp Photos

untuk melihat foto mana yang akan kalian hapus.

Aplikasi ini juga bisa kalian gunakan untuk

menghapus secara otomatis

foto spam dan junk yang berasal dari Gallery smartphone kalian.
3. Siftr Magic Cleaner
Selain menggunakan Gallery Doctor, kalian juga bisa mencoba
Siftr Magic Cleaner
. Sedikit berbeda dari Gallery Doctor, aplikasi yang satu ini benar-benar fokus pada foto-foto yang diunduh melalui aplikasi WhatsApp.
Kalian hanya perlu download dan instal aplikasi ini terlebih dahulu, kemudian langsung jalankan di smartphone kalian

Selanjutnya, pada halaman utama, kalian tinggal memilih

Go Ahead

untuk melanjutkan ke tahap

analisis foto

.

Aplikasi ini akan menganalisis terlebih dahulu foto yang ada di folder media WhatsApp kalian yang terdapat pada Gallery.
Setelah proses analisis selesai, kalian akan

mendapatkan hasil analisis

dari aplikasi ini.
Jika aplikasi ini mendeteksi adanya foto yang masuk kategori spam atau junk, maka foto tersebut akan

dihapus secara otomatis

setelah kalian memberi perintah. Sebagai catatan, aplikasi ini akan mencocokkan foto yang ada di perangkat smartphone kalian dengan foto yang tersimpan pada basis data jaringan internet untuk menentukan foto mana yang termasuk spam atau junk.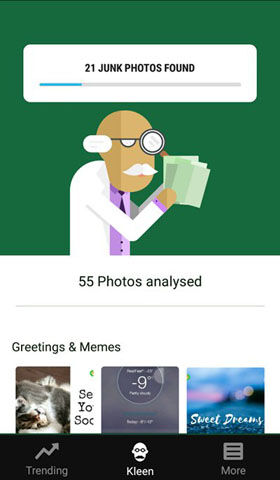 Akhir Kata
Itulah tadi beberapa cara untuk menghapus foto spam atau junk yang secar otomatis terunduh ke smartphone kalian melalui WhatsApp. Mudah kan? Sekarang kalian tinggal putuskan saja,
mana aplikasi yang cocok
untuk kalian. Selamat mencoba dan jangan lupa tinggalkan jejak di kolom komentar ya.
Translation to english
WhatsApp is one of the most popular social media that users have reached hundreds of millions of people. Features offered by WhatsApp such as End to End encryption and auto download feature that allows all the photos you see in WhatsApp will be downloaded automatically by this application makes this one application more favored by the users.
However, lately this auto download feature could be a conversation because it continues to download all the photos you see on WhatsApp, even though the photo does not want you to download or save. Indeed, you can just turn off the auto download feature. But what about the photos that have been downloaded already? Here's how to auto-delete the group's spam photos WhatsApp is certainly very disturbing, see below ya!

How To Remove Automatic Photo Spam From WhatsApp Group
Well, to overcome the problem of too many unnecessary photos WhatsApp auto download results, the following Jaka will explain how to automatically delete the photos that have been downloaded automatically so it does not become spam and burden your smartphone memory.
1. Prevention Steps

Before entering the application that Jaka will discuss, you can first step to prevent doing so WhatsApp does not do any downloading any photos to your smartphone through Settings.
From Settings, choose Chat Settings to access the next settings.

Well, then you just turn off the auto download feature in the Media Auto Download for WhatsApp no ​​longer do download photos casually to your smartphone.

Well, after taking precautions, it's time we go to the application that will help you automatically delete the spam and junk photos that are downloaded automatically through WhatsApp.
2. Gallery Doctor

The first way you can do to remove excessive photos is to use the Gallery Doctor application.
First of all, you must download and install the Gallery Doctor application first, then run on your smartphone.
enter the image description here


From the main page, select Skip to end the tutorial and you will go directly to the analytics page, where this app will start analyzing the photos contained in your WhatsApp media folder.
enter the image description here


Wait until the analysis process is complete, this application will display the results of its analysis. In this section you can select Bad Photos and Similar Photos to delete, because photos that fall into this category will only waste your smartphone's internal storage space, and also select WhatsApp Photos to see which photos you will delete.
This application also allows you to automatically delete spam and junk photos from your smartphone's Gallery.
3. Magic Cleaner Siftr

In addition to using Gallery Doctor, you can also try Siftr Magic Cleaner. Slightly different from Gallery Doctor, this one application really focus on the photos downloaded through WhatsApp app.
You only need to download and install this application first, then immediately run on your smartphone
Furthermore, on the main page, you just select Go Ahead to proceed to the photo analysis phase.
This application will first analyze the existing photo in your WhatsApp media folder contained in the Gallery.

After the analysis process is complete, you will get the results of analysis of this application.

If this app detects any photos in spam or junk categories, they will be deleted automatically after you give the command. For the record, this app will match the photos that are on your smartphone device with photos stored on the internet network database to determine which photos include spam or junk.
enter the image description here


The final word
Those are some ways to delete spam or junk photos that are automatically downloaded to your smartphone via WhatsApp. It's easy, right? Now you just decide, which application is suitable for you. Good luck and do not forget to leave a trail in the comment field yes.